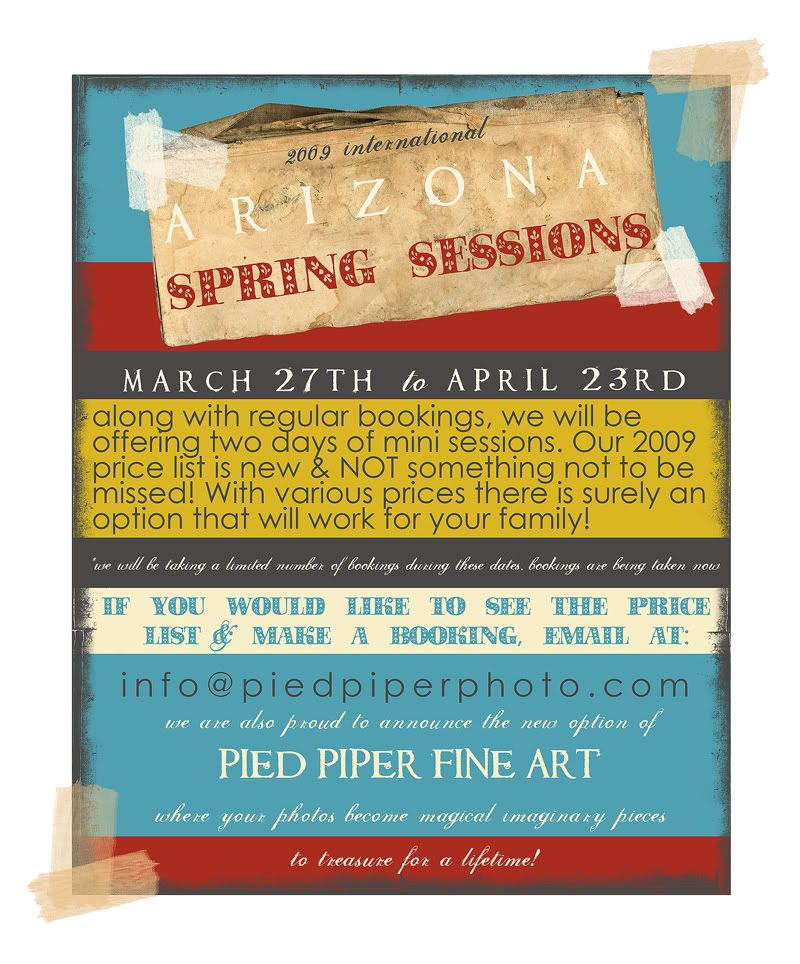 I am so excited about these sessions and can't wait to get cracking!! This is also a fab time to do senior sessions! I have some amazing package deals for those that are graduating!!
The mini sessions are going to be PHENOM! If you haven't had the chance to do a mini session, they are great (especially if you are on a budget!). They are literally MINI sessions! I go to one location and shoot there all day. Each client arrives and we shoot for 20 mins. Mini session packages usually entail some prints, cards, digital files or other fabulous things! Enquire about this pricing and what is in the AZ 2009 mini session packages!
I have also decided to offer my Fine Art as a shoot that you can purchase! If you haven't seen Pied Piper Fine Art check the website in the portfolio section. These are timeless pieces that are treasured for a lifetime!
*because of the time involved in doing these, I will only take a limited number
ALSO...very important here...I have had a great number of enquiries if I will be doing bookings in California or Utah for this spring session.
If you are interested (serious enquiries only) please contact me ASAP and tell your friends!
WOO-HOO!! I cannot wait...oh the things to get creating!! See you soon enough!
the Pied Piper xo