Hello dearies!! I was asked to take part in
Kristin Duke Photography's DECORATING WITH PORTRAITS
! I am the last of this month so make sure you check it out along with the whole month of posts!
Having your disc full of images does you NO GOOD if you aren't hanging them!!
Living in England is spectacular but the homes are a tinge smaller than your average American house! All the small wall space makes decor a little harder! We moved into our current home just over a year ago and because this house is temporary I really didn't feel like making much of an effort to decorate with my photos. I also didn't really have a clear goal or vision for what I wanted SO I waited and waited and waited some more because I didn't have everything I wanted for my walls! Is anyone else like me....feeling like if you don't have it all together just right than you don't want to put it up and make it happen?!? That was me. They sat barren for FAR too long that I finally got my act together a couple of months ago............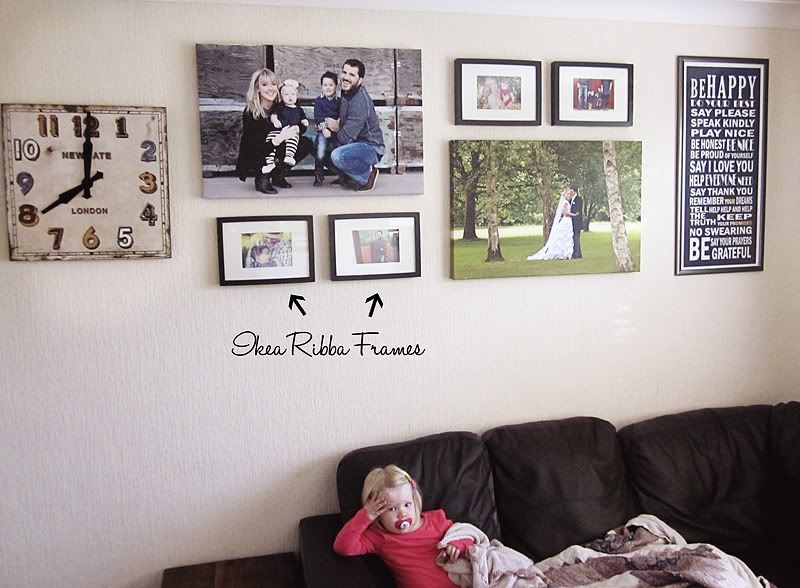 The lounge (or living room for you Yankees!) took me awhile because the walling is less than lovely and I wasn't sure which photos would be right. So I went with some wraps.....I LOVE gallery wrap canvases! They come ready to hang and you don't have to worry about the faf of finding the right frame! I don't normally advocate smaller images up on walls because I LOVE the big big BIG! So much easier to see instantly versus having to get close to a wall to view. However, I am a fan of the mix here....bit of BIG and a few littles. I think it is a good mesh! The smaller frames are an inexpensive buy from
Ikea
...easy peasy lemon squeezy right?! And who doesn't love a trip to Ikea?! Bit of Swedish shopping and some meatballs for lunch!
(Don't you love the enthusiasm on my baby's face?!)
This is the shelving on my office desk....it was so bland on top! Again another usage of Ikea Ribba frames. They are easy to hang and also capable of standing on their own.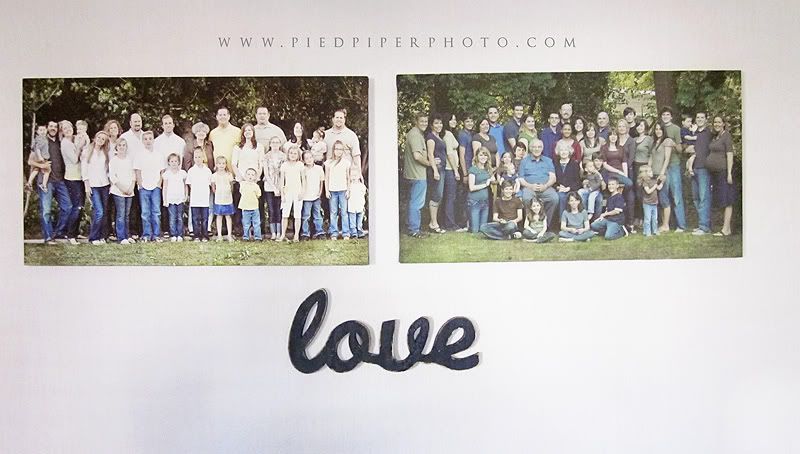 I always do the BIG family photos and never hang them. I just did some funky sized canvases and threw them on the wall. My kids love that they can see all of their cousins and grandparents and I love that they remember everyone this way!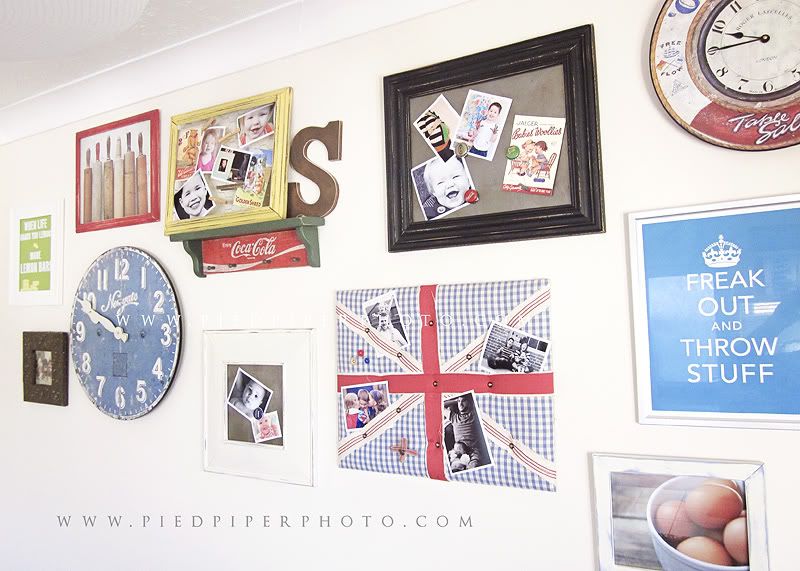 My country kitchen. I had been collecting pieces here and there for quite sometime. Before I knew it I had a crapload of stuff! My kitchen is probably the lightest room in my house so I also wanted family photos in here but without taking up too much wall space for all of my other knick-knacks! Thus the magnet boards and chicken wire frame....great way to throw in some of my other fave shots!
Can you tell that I am a fan of
Newgate
clocks?!
L.O.V.E.
TK Maxx (of TJ Max for you Yanks!) fab place for some great decor finds,
The magnet framed boards from
Orange Blossom Shop
are some of the cutest I've seen!
With smaller photos, lots of these are 4x6 and 3x5, I put borders around them.
It gives a little bit of an old vintage feel to it and adds a pop that smaller images need.
We call this the wonky wall...there is absolutely no rhyme or reason as to how all of this hangs. Nothing hung just perfectly!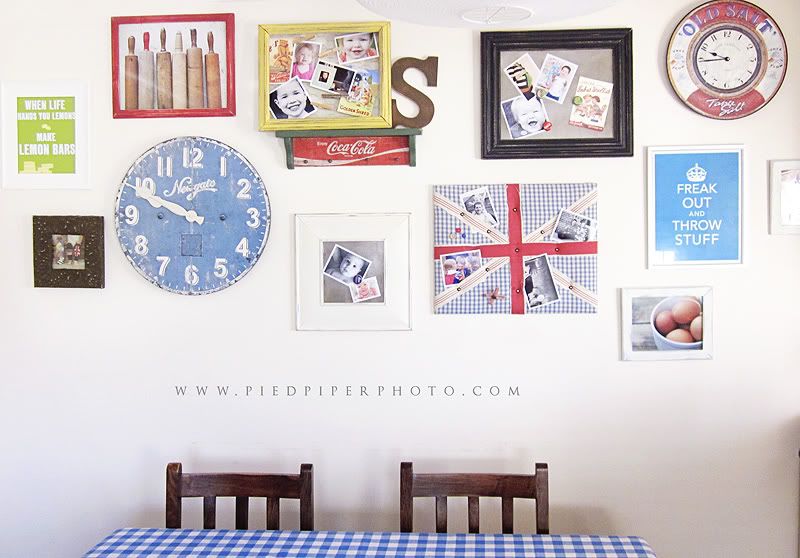 My crazy boy's room! I loved that photo of him so much that I made it a VERY big canvas and grabbed a sign from
William Dohman
(LOVE his stuff!) that worked so perfect for the shot! We like to hang his artwork from school with a burlap string and clothespins as well. I love it and he LOVES it! He thinks it's so great that mom and dad want to hang his pictures! It's also a great idea for photos if you really can't be bothered with framing or canvases!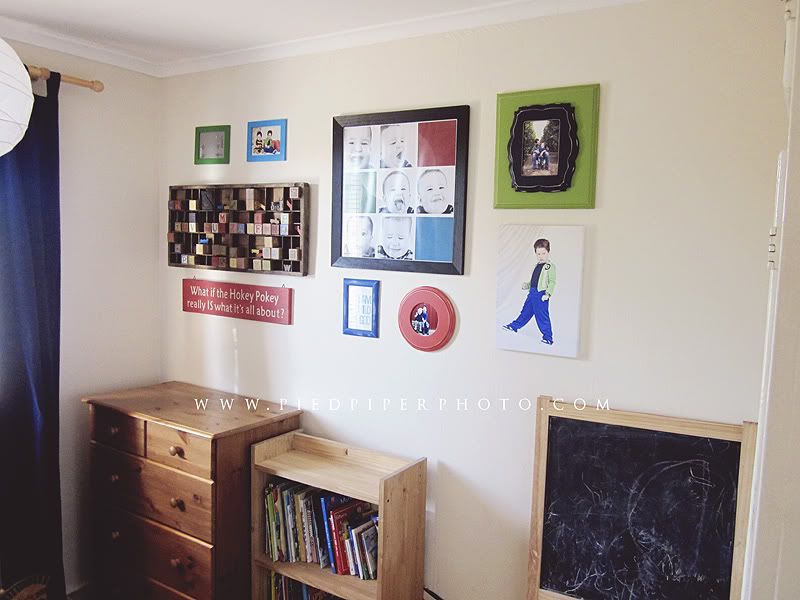 His other wall is my current work in progress. I wanted to get things up but his room was so undecided! I just went for a couple of things that I knew I wanted and then threw up a couple of other bits to help me figure out the rest! Sometimes those faux ideas help you figure out what you want and sometimes you end up keeping it!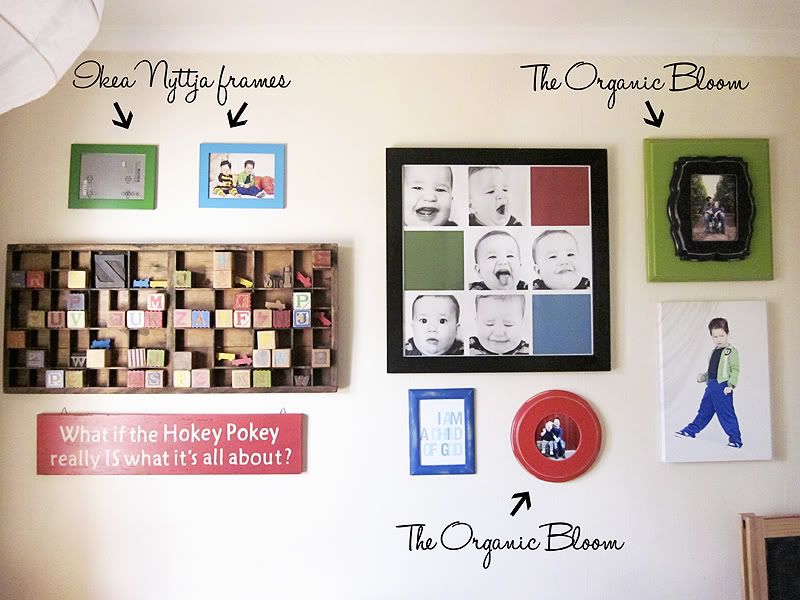 I am waiting for my frames to ship to me (that darn pond makes my shipping times longer!). Those frames which will be from
The Organic Bloom
, are going to replace the small green, light blue and dark blue frames that are currently hanging. A standout mount is also replacing the checker block framed print. This wall has some holes all around because trying to find the right idea with his shots was killer! I used the Ikea Nyttja frames to help me get some ideas...they are super cheap! The other canvas is a Halloween costume shot, I LOVE it of him....it's SO him! After I put it up he said, "I look awesome huh mom?!" Totally dude...totally!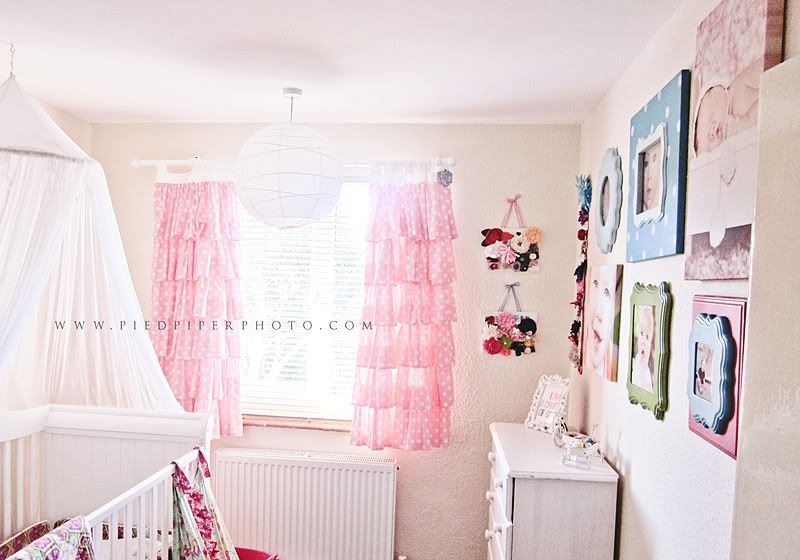 My girls room turned into a foof of pink! I love her face and wanted it all over her walls so we went for it with a few different frames and canvases.
I always get asked about her curtains, they are from
Paula & Erika on Etsy
.
So cute right?!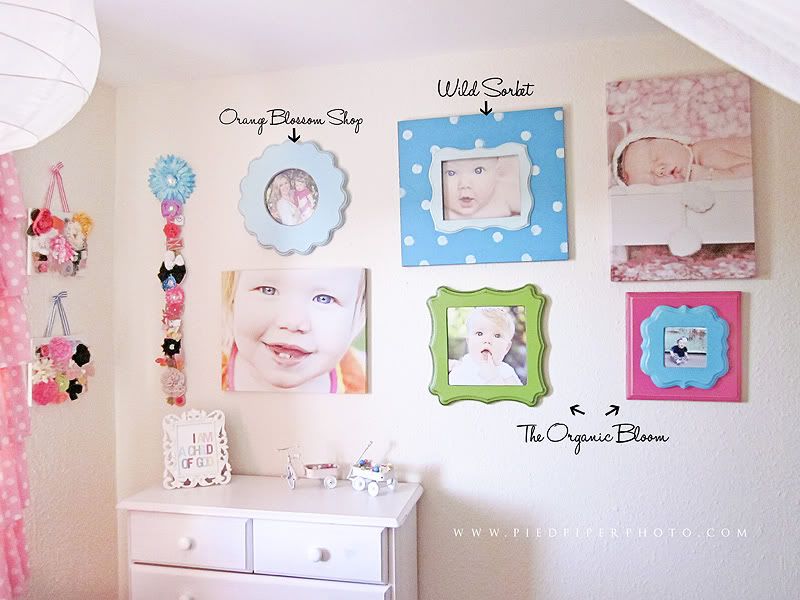 I love me some
Organic Bloom
and
Orange Blossom Shop
. I love the depth of the Orange Blossom frames and the classic pastel colors they have.
Organic Bloom has a number of options in so many ways, it's like walking into Willie Wonka's factory! I also LOVE that your print is the front of the frame...no glass or plexi. It really creates a super rich feel to the frame and photo. LOVE THAT about them!!
In all honesty, I won that Wild Sorbet frame and it is fabulous. Their frames are very sturdy and heavy with various options and colors!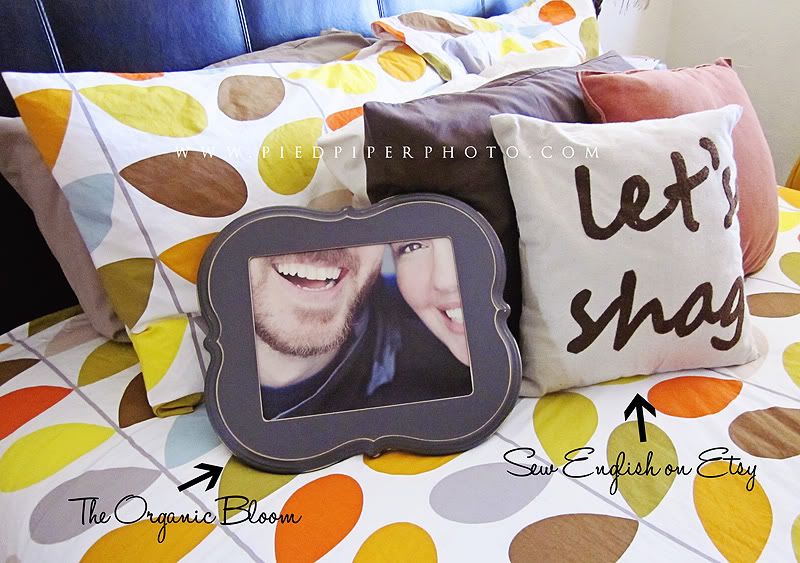 Lastly is the master bedroom. I have been waiting for weeks for my 40x40 canvas of a beautiful shot from our wedding, it has still not arrived (don't worry the call has been put in!). I also have another frame to the matching one below that will be on either side of the canvas. The other shot is a cutoff image as well with me and the hubs again. It's not an image you would think to frame but it is SO us and I know they will look amazing up on our wall.
It has been amazing to have our images up. It makes our home feel like a home!
I don't think putting up frames or canvases or whatever you use is something that has to be a huge chore or annoyance! Just GET THEM UP!